While many factors determine the value of your property, few are as prominent and noticeable as your farm fences.
Rundown fencing is particularly visible, and it's definitely something that potential buyers are going to notice. A lot of other important factors in determining the value of your property, like fertiliser history, weed control, pasture condition, building maintenance and water infrastructure are much less visible. Poor quality or poorly maintained farm fences might give the impression that the rest of your property & infrastructure is in a similar condition.
Installing new farm fences before listing your rural property for sale can significantly increase the value. While there is a not-insignificant cost associated with installing new fences throughout your farm, the return on investment can be significant.
If you're considering selling your farm, have a read through the list of fencing considerations we have put together for you to help determine if re-fencing your property might help to boost the value.
Things to Consider
Quality & Reliability
If you're going to go to the effort of installing new fences on your farm, it's best to be sure the new fences you install are going to stand the test of time. Using high-quality & reliable fence hardware, like Rotech's range of hot-dip galvanised end assemblies & latches, will ensure the effort you put into building your new fence lasts for years.
Unsure if you need galvanised gate hardware? Check out our article on the difference between zinc plating and galvanising, and which will work best for your requirements.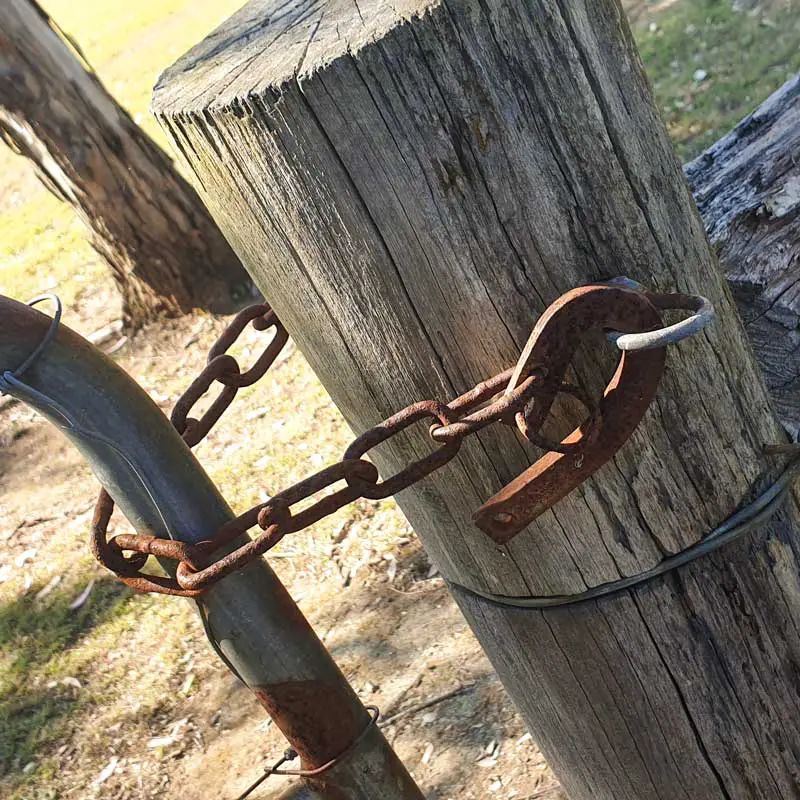 Appearance
As we said before, one of the first things a potential buyer of your property is going to see when they first arrive to check the property out is likely to be the fences. Falling down, damaged or poorly maintained fences could give an instant bad impression. Rusty gate hardware, latches made out of wire, and sagging gates won't help either. If your fences are like that, what condition is the rest of the property going to be in?
While this is not likely to be a fair assessment of your property value, it is something that matters to buyers. They do not want the cost & time of having to re-fence the property after they have purchased.
Having your gates swing smoothly, your latch chains the right length, and all your posts & wires in good condition will ensure you don't leave a bad taste in a potential buyers mouth.
Fencing can be a big job — but it doesn't have to be.
Ensure your new fences are easy to install and maintain by selecting the right products for the job. Rotech's range of innovative fence hardware makes installing new fences faster and easier than ever.
Fast-Install, Machinery Free, No-Weld Strainer Assemblies
Our range of Drive-Tight & Stay-Tight end assemblies makes it fast and easy to install a key component of your fences—the strainer posts & stays.
Our Drive-Tight end assembly kits include the post, post cap, stay. Stay connector, footplate & tensions assembly, so you have everything you need. These hand-driven posts make it possible to install a full end assembly in 15 minutes, with no machinery necessary, and no welding required. If you also have pest animals in the area, our Drive-Tight exclusion fence end assembly kits will give you the extra height needed to keep out feral animals and are just as easy to install as our standard height end assemblies.
If you already have the machinery necessary, our drivable round post end assembly kits are a great time-saving option too, making it possible to install 10 to 30 assemblies in a day, instead of the average two or three.
We also have a range of fitting kits, where you supply your own post and stay (this is a popular option if you have a local steel supplier, and can help reduce freight costs to remote areas).
Not convinced it's that easy? Check out our drive-tight installation video that shows the full process.
Adjustable gate hinge set to keep your gates swinging smoothly
Once you've got the strainer and gate posts installed, you'll need gate hinges too. Our easy to install, no weld, bolt-on adjustable round post hinge set (FG6) is another great time-saving option. But do you know what the best part is? This hinge set offers 5 ½" (140mm) of vertical adjustment so you can ensure your gate swings perfectly. There will be no more gates dragging on the ground, or sticking up in the air. Now you can get the swing just right every time!
Easy to attach, easy to maintain, galvanised gate latches & catches
Your gates won't just need hinges, but they'll need high-quality, reliable latches too. We manufacture a full range of hot-dip galvanised latches specifically designed for steel posts. Our farm gate latches and catches range has something to suit any application and can either be welded or screwed onto your posts. The galvanising means these latches will stay looking newer for longer and are sure to keep your paddocks secure.
Reduce labour costs by installing yourself
By selecting fence hardware that is easy to install, doesn't require heaps specialised equipment, and can be installed quickly, you can save on a lot of the labour costs of new farm fencing by installing your fences yourself. Not having to rely on contractors or expensive installation equipment means you get more "bang for your buck" with your fence upgrades.
Not ready to take it on on your own? Check out our list of rural fencing contractors who are familiar with Rotech's products and can install them for you. Rotech products will save time for the contractors too, and help you save on labour costs.
Once you've got your end assemblies in place, and your gates ready to go, be sure you are using the correct fence post spacing for your needs. Read our guide on the right fence post spacing here.
Less Ongoing Maintenance
So you know you need a quality, reliable fence, with suitable hardware, that looks neat and tidy, and it might not be all that hard to install—but it's still going to cost money.
Have you factored in the cost of maintaining your existing fencing? Ongoing repairs and maintenance to your existing fencing can be expensive and time-consuming. For a buyer, the cost of maintaining the existing fencing is likely to be a factor when they're determining a final offer price. By installing new, long-lasting, galvanised fence hardware, you can reduce the ongoing maintenance costs for the buyer.
Farm Fencing Costs
So how much will it cost? Well, how long is a piece of string? The total cost of updating your farm fences before selling will depend on a lot of factors, including the planned land use, local topography, the location of the fence, and whether it is a boundary or internal fence.
You'll need to factor in the cost of the following when budgeting for your new farm fences:
End assemblies & strainer posts

Intermediate posts (like star pickets)

Wire or mesh

Gates & gate hardware

Machinery costs

Installation material costs (like concrete for non-driven posts)

Labour costs
Local Considerations
Fire Conditions
In bushfire prone areas, having new all-steel fencing can be a real selling point for a buyer looking to purchase a property. More people are looking at fireproof fencing as an asset in these areas that are susceptible to fire. Buyers will favour properties that have already invested in and installed steel strainer assemblies, as these won't burn out in a fire.
Rotech's products are hot-dip galvanised steel and are designed to stand up to high temperatures in fires. If a bushfire comes through the property, the last thing anyone wants to worry about is having to rebuild fences as part of a cleanup effort!
Pests & Predators
Depending on the land use and pests in the area you may also want to consider exclusion fencing as a way to add some serious value for potential buyers. Exclusion fencing can greatly reduce the impact of wild dogs, pigs and other predators, and is a valuable investment that will be appreciated by potential buyers.
Find Your Local Stockist
With almost 500 stockists Australia wide, we're sure you'll find a local store near you.
If you're considering selling your property and your fences could use an update, do it quickly, easily, efficiently, and reliably with Rotech products. Replacing your fences before selling could add value to your property before you sell.
Browse our full product range online, or find your local stockist. Can't find what you're looking for our need some more help? Our friendly team is more than willing to answer your questions. Just give us a call on 1800 004 940.
About Our
Product Range
Staytight End Assemblies
Our staytight end assemblies make it possible to get your rural fence end assembly set up and finished in under 15 minutes.
Our range is also one of the most versatile and rust resistant assemblies on the market. They are hot dipped galvanised to ensure you have a product that lasts.
Rural Gate Kits & Hinges
Our hinges and gate kits can making opening and closing your gates easy. We have a large range of farm gate kits and hinges for both timber and steel.
We have hinges to suite steel, timber and concrete gate posts, including our innovative, patent protected Bolt-On Adjustable Round Post Hinge Set (FG6).
Farm Gate Latches & Catches
Make sure your gate stays shut with our range of rust resistant gate latches and catches. Our large range of latches and catches ensure that you will find something to suit your needs.
Whether you need to secure your gates, add new latches to your cattle yard, or want to lock up your dog box, we have something to suit.