Supporting Our Neighbours Program From NSW Local Land Services
The NSW government has recently announced a new program offering financial assistance for bushfire-affected landholders whose property borders public lands.
Private landholders who share a boundary with public land and were impacted by the Northern and Southern fires of late 2019 and early 2020 are eligible to receive up to $5,000 per kilometre to contribute to the replacement of damaged boundary fences.
For more information, or to apply, visit the NSW Local Land Services website.
The Fire Risk With Timber End Assemblies
Timber end assemblies and strainer posts are likely to be damaged beyond repair or burnt-out entirely in serious bushfire events. Damaged strainers leave your property unsecured and require immediate, expensive and time-consuming repairs. Each strainer post needs to be removed and replaced before your property can be secured.
Digging out the burnt strainers, replacing gate hardware and rehanging gates can take a substantial amount of time and effort on large properties after a bushfire event. Meanwhile, livestock on the property is not securely contained, and the property may be at risk from vermin & pests.
Keep Your Fence Up After A Fire
Investing in steel end assemblies and fire-resistant gate hardware gives your fence a better chance of remaining secure in bushfire events and reduces the time and cost of repairs. While the initial material costs may be higher than timber posts, installing your new steel end assemblies and gate hardware can be much faster and easier than traditional timber end assemblies and stays. Rotech Rural's innovative end assemblies are fast to install, require no welding or machinery, and can be installed in many different positions to suit the terrain.
Fire Damaged Fences in Tenterfield, NSW
How To Protect Your Fences From Bushfire Risks
End Assemblies, Strainers & Stays
Timber end assemblies are likely to be damaged in a bushfire to the point they need replacement or entirely burnt out if the fire is hot enough. Replacing timber strainers can be difficult and time-consuming, and having a burnt or damaged timber end assemblies likely means your whole fence is down. Instead, replacing your timber end assemblies with steel strainers and stays helps protect you from bushfire damage.
All of Rotech Rural's end assembly components are steel, from the post to the footplate. They are either hot-dipped galvanised, galvabond coated or stainless steel, making them fire-resistant, and also termite-proof and long-lasting.
You can install a non-driveable post in the existing strainer post hole with some rapid set cement, or you may choose to change the position of the fence line, and put in a new strainer—either machine-driven or hand-driven. Either way, Rotech's innovative range of end assemblies, fitting kits, and stay connectors has something to suit your needs. They're also fast and easy to install, and don't require any machinery or specialised labour.
Our range of full end assembly kits include a strainer post, post cap, stay, post & stay connector, footplate, and tension assembly, so you have everything you need to install.
The posts are available as non-driveable, which need to be cemented in place and are suitable for utilising an existing post hole when replacing fire damaged strainers, or as machine or hand-driven. Our Drive-Tight hand-driven strainer posts use a patent-protected design, including a picket style base that makes it easy to drive in by hand. All of our Drive-Tight posts are 100NB, and you can choose between a 40NB stay (general-purpose), or a 50NB stay (heavy-duty).
All of our end assemblies also include a steel footplate. This ensures that after a fire, your strainer can still support the tensioned weight of your fence. A steel footplate will not burn like plastic, or crack like concrete can in a hot fire.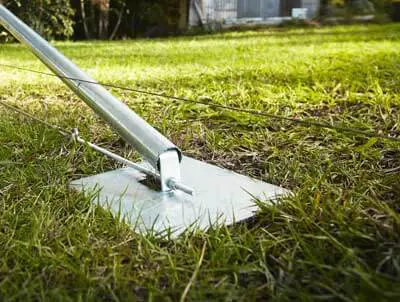 Already have a steel pipe supplier for your stainer posts? Our fitting kits include everything else you need to turn a piece of 80 or 100NB steel pipe into a reliable and easy to install end assembly.
In each fitting kit you will get the following:
A

Twist Tight Stay Connector

.

These are made from hot dipped galvanised steel.

A Footplate. These footplates are made from hot dipped galvanised steel, which means it will last longer than other alternatives. The tongue on the metal plate that goes into your stay is welded on. As a result this footplate is more durable, more secure and stronger than other footplates on the market.
One Tension Assembly: This includes a cable made from stainless steel and a hot dipped galvanised steel eye bolt. The cable is already connected to the eye bolt and the loop is already set up. No need for rope grips, saving you time.
A Post Cap: All post caps are made using the Galvabond Process.
Gate Hardware
If you need to replace your end assemblies after a bushfire, chances are you'll need to replace your gate hardware too, and rehang your gate on the new post. Our bolt-on adjustable round post hinge set is the perfect way to rehang your gate quickly and easily. There is no welding required, and the hinge features a massive 140mm (5 ½") of vertical adjustment to ensure your gate swings smoothly. Like our end assemblies, our gate hinges and latches are hot-dipped galvanised to be long-lasting and fire-resistant.
Wire & Posts
Chances are you probably need to replace some wire and posts along your fence following a bushfire too. Your local rural supply store can recommend the most appropriate fire-resistant star pickets and wire available in your location.
Repairing Fences After The Tenterfield, NSW Fires
A Rotech Rural customer, Clifford Skinner, was recently affected by the fires in Tenterfield, NSW. The strainers on his fences were severely damaged, if not entirely burnt out. Clifford made the decision to rebuild the damaged fences with more fire-resistant materials and is happy with his choice:
"I have been using your products for the last four weeks replacing burnt out strainers and stays where the fires have been. It's a very successful system."
Clifford explained the process he uses to quickly and easily replace the damaged end assemblies with Rotech's hot-dip galvanised end assemblies. "I remove old burnt strainer butt if it's not burnt right out, and replace with 100mm strainer. Then compact the earth at the bottom and ram rock into the hole. I add some rapid set cement and cover it with dirt. I fit the stays just above the second wire as I was taught that that was the optimum position to install a timber stay (old school)." By replacing the damaged end assemblies with a more durable system, Clifford is likely to spend less on any future repairs if there is another bushfire in the area and has saved significant time and labour on the current repair. "I am very satisfied with the system saves a heap of time."
Rotech Rural end assemblies have been available in local Tenterfield, NSW stores for more than ten years. Want to find Rotech fire resistant fence hardware in a store near you? Use our store locator to search our 400+ stockists, Australia wide.
The Results