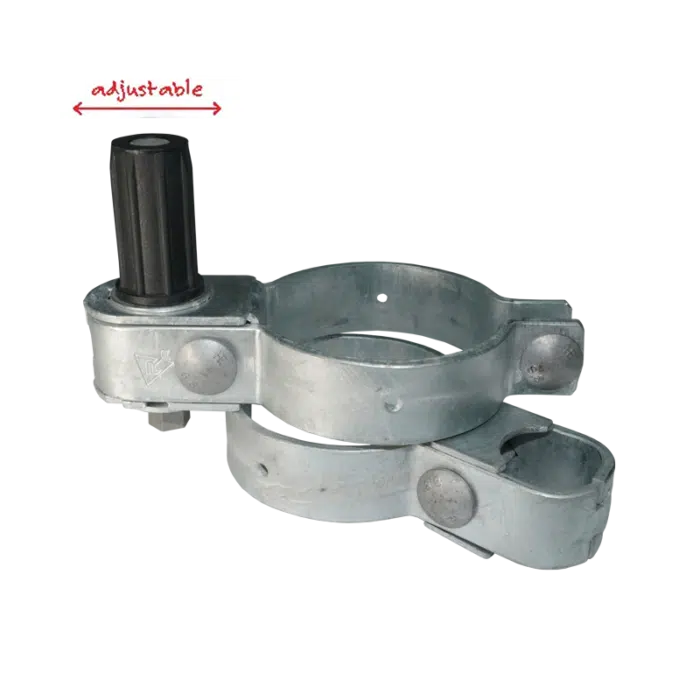 Simple. Adjustable.
NO MORE Sagging Gates.
Looking for an easy to install, adjustable bolt-on hinge set that won't let your gate sag?
Our bolt-on adjustable hinge for round posts, are strong, simple to install, safe for livestock, long-lasting, and will never sag, even hanging an extra long gate!
No welding, easily adjustable, and rust-resistant. This patent-protected design will have your gates swinging smoothly faster than you thought possible.
Steel Post
Bolt On
No Power Needed
19mm Socket Or Spanner
Adjustable All Directions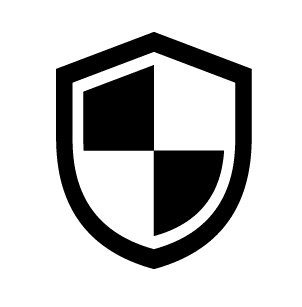 Galvanised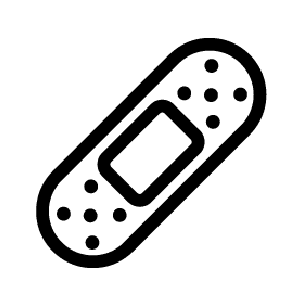 Anti-Bruise Design
How Does The Adjustment Work?
The bottom gudgeon pin on this bolt-on round post gate kit allows you to adjust the gate angle easily, whenever it's required.
With 140mm (5 ½") of vertical adjustment, there will be no more gates dragging on the ground, or sticking up in the air. Now you can get the swing just right every time!
The new MKII design also allows the pin assembly to be locked into three different positions to prevent any chance of movement. This is especially useful for extra-long or heavy gates.
Customer Feedback on the
FG6
"
FG6100 – Best latch hinge system. Love them!
Tui Macart
Orange, NSW
Bolt-On Adjustable Round Post Hinge Set | Gate Kits & Hinges
"
Very good to adjust on the post.
Rod Eggleston
Rutherglen, Vic
Bolt-On Adjustable Round Post Hinge Set | Gate Kits & Hinges
"
Great! Big time-saver and looks great!
Robert Grimm
Grenfell, NSW
Bolt-On Adjustable Round Post Hinge Set | Gate Kits & Hinges
"
Have swung 6-metre gates off these with great success. Now my preferred gate hardware.
John Dunkley
Forbes, NSW
Bolt-On Adjustable Round Post Hinge Set | Gate Kits & Hinges
"
Very good & user-friendly!
Justin Kirkby
NSW
Bolt-On Adjustable Round Post Hinge Set | Gate Kits & Hinges
"
Great to use! No Welding!!
Jeff King
Gunnedah, NSW
Bolt-On Adjustable Round Post Hinge Set | Gate Kits & Hinges
Watch Us
InstalL The
FG6
MKII
See how fast and easy it is to hang your gate!
About The FG6
This patent protected heavy duty hinge set (also known as the FG6), is specially made for swinging rural gates on round steel pipe.
Rotech built this hinge set to make it easy for farmers to fit gates to pipe and keep their gates hanging level, and out of the dirt.
It sounds simple, doesn't it?
Yet, there are thousands of gates that are still dragging in the dirt, or sticking way up in the air. Why? Because they are not adjustable.
The FG6 allows you to adjust your gates angle over time, so you will always have a smooth swinging and stable gate. The hinge will support the gate in any position throughout swing a full 180 degrees without twisting due to its unique "CUBELOK" Gudgeon pin assembly.
To add even more rigidity, when supporting extra-long or heavy gates, the hinge straps contain predrilled holes that can be utilised to fix the hinge straps to the posts with screws.
The Gudgeon pin on the Rotech FG6 is a full 75mm long and is fitted with a heavy duty Nylon bush.This ensures the base of the gate is held securely, and swings effortlessly.
The Nylon bush protects both the pin and the inside of the gate, ensuring the galvanised surface is not worn away. We have found the steel pins used by most other manufactures of these type of hinges tend to rust as the galvanised coating gets worn off
Once the gal coating is worn away, the affected surfaces of both the gate and pin form rust. This in turn creates friction, grinding away the metal surfaces and making your gate hard to open and placing far more pressure on your hinge.
Rusty gudgeon pins will eventually irreparably damage the gate or break off. The FG6's Nylon bush stops that from happening.
The 6mm hot rolled steel used in the Rotech hinge straps ensures smooth burr free edges and maximum strength, making it at least 20% stronger than the 5mm material used by some other manufactures.
The real secret to the strength of the Rotech FG6 is the patented "CUBE LOK" gudgeon pin mounting assembly. This unique innovation allows the gudgeon pin to be adjusted away from the post but supports it in such a way that it is bolted in place both horizontally and vertically, making it the strongest adjustable pin on the market.
To add extra strength we include a long nut on the bottom of the hinge assembly, giving our adjustable hinge set twice the holding power of an adjustable hinge with a standard nut. This added strength mean your nut won't slip over time (which is a problem with other gate hinges). Rotech's FG6 means no more sagging gates.
What's best is they require no welding or grinding! That means they are perfect for summer – no fire risk! It is no wonder government departments and mines love this gate kit!
Don't risk a cheaper alternative. Don't get talked into fitting Non-Adjustable bolt ons. There is nothing truly like the Rotech FG6!