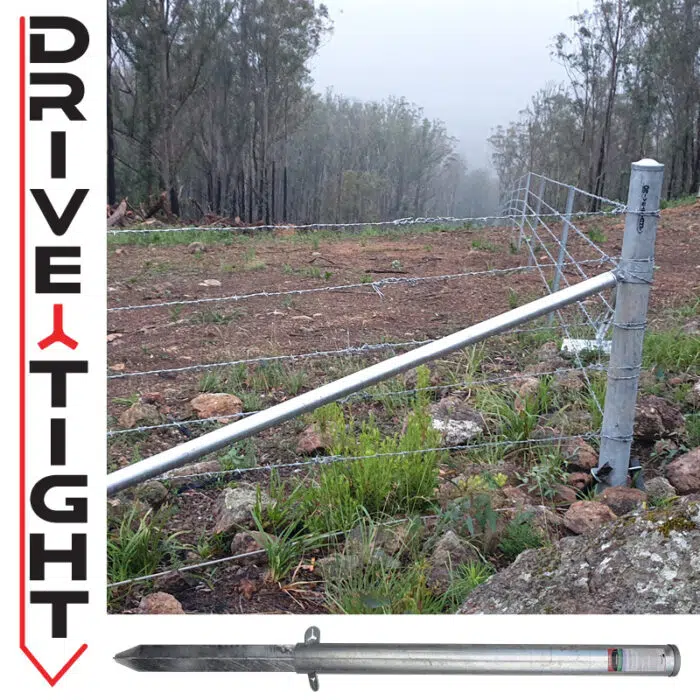 Easily Install Your Full End Assembly In 15 Minutes!
Looking for a quick and easy to install end assembly? Our Drive-Tight posts combine the ease of driving an angle post with the versatility of a round post.
*Patent Protected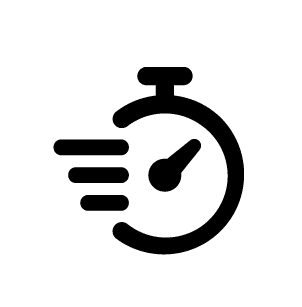 Fast 15 Min Install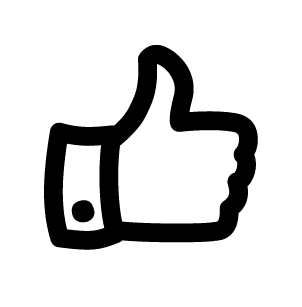 Easy To Use
Strong & Reliable
Termite Proof
Fire Resistant
Versatile
No Machinery Required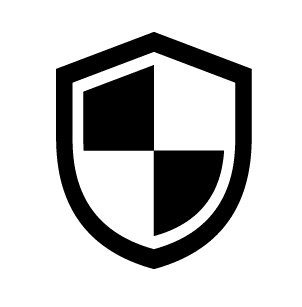 Galvanised
Get your end assembly installed faster and easier. Our patent protected Drive-Tight end assemblies are easy for anyone to install, take less than 15 minutes to install, and give you a neat & tidy finish.
How Important Is Your Time?
If you are looking for an easy and quick to install end assembly kit, then our kits are perfect for you. Our drive tight post end assembly kits take less that 15 minutes to install!
Our unique Drive-Tight strainer post design and assembly kit can save you hours of work. You could easily do 10 to 30 assemblies in a day compared to the average 2 or 3.If you only have the one assembly to install, then you can spend the rest of your day doing something else that will make you more money. (Or you could enjoy the day sitting on your verandah with a cup of coffee.)
Our kits are all made from steel and are either hot dipped galvanised, galvabond or stainless steel. This means they are termite proof, fire proof and long lasting.
All of our Drive-Tight posts are 100NB. You can choose between a 40NB stay (good general purpose stay), or a 50NB stay (more heavy duty).
ABOUT OUR DRIVE TIGHT POST
Do you want the ease of driving a star picket and the versatility of a round steel post? Our Drive-Tight steel fence posts allow you to hand drive your post without needing a pneumatic driver.
It drives in straighter than a round post, yet still offers the versatility of a round post. You are not restricted by 90 degrees like you are with an angle post.
If you have a machine, the Drive-Tight post drives a lost easier and quicker due to the picket base, resulting in less wear and tear on your machine.
To ensure that it is secure in the ground, we have included two lugs at a 40 degree angle that allows you to drive two half star pickets at an angle into the ground. These three points of anchorage gives you an extra strong strainer post.
Combined with our strainer assemblies, the entire end assembly can be installed in under 15 minutes. It is the quickest end assemblies available. Don't believe us? Check out the video below.
If you can find a quicker end assembly, we want to know! (We haven't found one yet)
Installing
Your
DriveTight
Hand-Driven
Post
Installing your Drive-Tight steel fence posts is easy with the DriveTight post driver.
To install your posts you'll need to purchase or hire a DriveTight Post Driver. Hire is available only at selected stockist rural stores. Enquire with your local store about hire availability.
Customer Feedback
"
We really enjoy using your products, they're making fencing a lot quicker for us.
Mel & Fred
Guyra, NSW
Drive-Tight Fence Posts | Fence Posts & Strainers
"
Used the Drive-Tight Assemblies. I'm 80 years old and did it all myself. Looks great, you have a good product!
Noel Green
Deniliquin, NSW
Drive-Tight Fence Posts | Fence Posts & Strainers
"
Work well. Easy to use, fast to drive in.
Lachlan Harrison
NSW
Drive-Tight Fence Posts | Fence Posts & Strainers
Steve Ryan
Hobbys Yards, NSW
Drive-Tight Fence Posts | Fence Posts & Strainers
​
How To Install a Drive-Tight End Assembly
Watch and learn the steps on how to install Rotech Rural's Drive-tight End Assembly.
In this video we walk you through the process of installing your drive-tight post and end assembly kit.
Tip: Where you put your post, dig a dinner plate sized hole about 150mm deep and drive your post in. This will allow you cover the top of the lugs and any star pickets you drive. This gives you a cleaner look and is safer for any livestock.
Want to install your end assembly even faster?
Our tube spanners are designed specifically to tight the tension cables that come with many of our end assembly kits. It is suited for an 18mm nut (M12). The spanner is 450mm long to fit over the end of the cable assemblies long eye bolt. The extra long socket allows you to tighten the nut quickly and easily.
It suits a 0.5 inch drive for your compact drill and can also be used with a standard ratchet.
Code
Length
Nut
Drive
Units Per Pack
RRP Per Unit
(Inc. GST)
STS
410mm
18mm(M12)
1/2″
1
$9.35*
*Retail pricing shown is a guide only. Prices will vary depending on store location and quantities. Freight costs are not included in this price guide. All pricing includes 10% GST.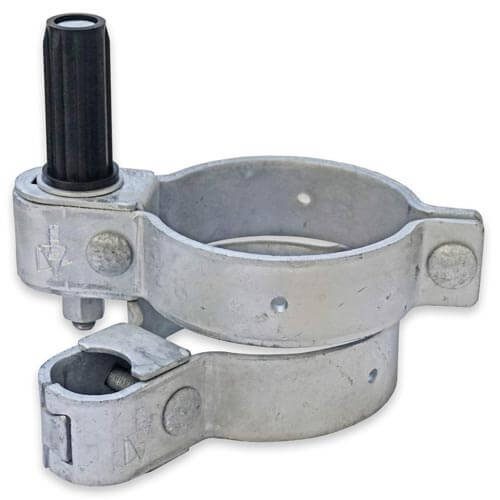 Need A New
Gate Kit
For Your
Drive-Tight Assembly?
Looking for an easy to install, adjustable bolt-on hinge set that won't bruise your livestock?
Check out our bolt-on adjustable round post gate kits!
Our bolt-on adjustable hinge for round posts, are perfect no matter your post size.
There are tens of thousands of FG6's scattered around the country, all doing one thing really well. Smoothly swinging gates.
They do this effortlessly, thanks to their design and the 20% extra strength they have over alternative kits.
A perfect addition to your DriveTight End Assembly.